A great party and event is what we live for. The energy of a group of people coming together celebrating dancing and creating is the apex of what it means to be alive! 
For over 10 years this passion has fueled our Party and Event Production team under the DARRYL NAU Presents umbrella in NYC, LA, Austin and Miami.
We have produced Movie Premiere Parties (Jackass 2), Album Launches (NIN, Bloc Party) and some of the most over the top themed events (Tampon Tuesday, Tinfoil Madness, 1000 Rolls of TP, Jewish Disco).  We have seen half of NYC have sex on the dance floor and hosted more open bars than hotdogs eaten at Nathan's. 
Some past Guests, Dj's and Performers have included - Spank Rock, Bloc Party, Modest Mouse, The Misshapes, Tommy Sunshine, Steve Aoki, DJ Dirty Fingers, Perry Farrell, Vice Magazine, Fuse TV, TheCobraSnake.com, LastNightsParty.com, Roxy Cottontail, Ursula 1000, Ninja Sonik, Mike Skinner (the streets), Laura Bush (the EX-presidents daughter made page 6 when she went into party monster mode and lost her wallet at Shit Hammered), Lindsay Lohan, Paris Hilton, Mat Hoffman, Bam Margera, Arto Saari, Rune Glifberg, Jimmy Levan, Garrett Byrnes, Jack Osborne, Interpol, Michelle Gondry, Julia Styles, Ti, West, As Four Fashion Designers, Michael T, Justine D, Harold Hunter, Maroon 5, Sophia Lamar, Amanda Lepore, Suroosh-Gavin-Shane (founders of Vice Magazine), UFO (Arrested twice), Swoon, Sadu (shit his pants twice), Haculla, Astro Earl, Dillinger Escape Plan, Mint and Serf, Japanther, Federation X, The Mr. Move, Joanna Angel, James Patterson (PressTube.com), Ellen Stagg (thestagparty.com) and thousands of other people who were showing us how to have the time of their life.
Some past events
SHIT HAMMERED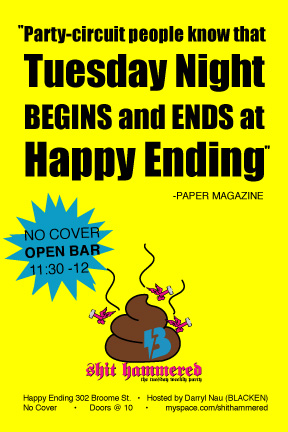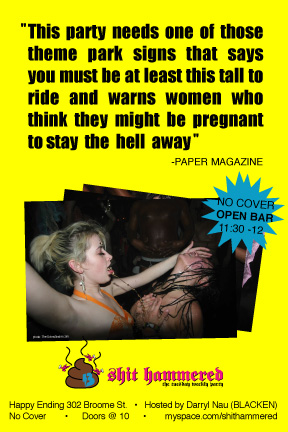 Tuesday Nights at Happy Ending w/ Spencer Product, Stefan Lockdown (r.i.p.), Darryl Nau and DJ Bastard.  An over the top weekly themed party with open bar, porno and the craziest people going mental. Words cannot even describe how out of control this party was when it was in its prime. A staple pick for The Cobra Snake.com, Last Nights Party.com and Paper Magazine - "Party-circuit people know that Tuesday nights begin and end at Happy Ending", "This party needs one of those theme park signs that say you must be at least this tall to ride and warns women who think they might be pregnant to stay the hell away."- Paper Magazine.
PEACE OF PIZZA 
The first nu rave style party in the states. Neon food explosion themes with resident DJ's Dirty Finger (BLBC), Kingdom (Club Vortex) and Reverend McFLY (Ninja Sonic). Darryl Nau and Krystyna Printup flew guest DJ's over from London and some past performers include DJ Niyi, JuiceBoxx & Dre Skull, Neon Music, Bunny Rabbit...